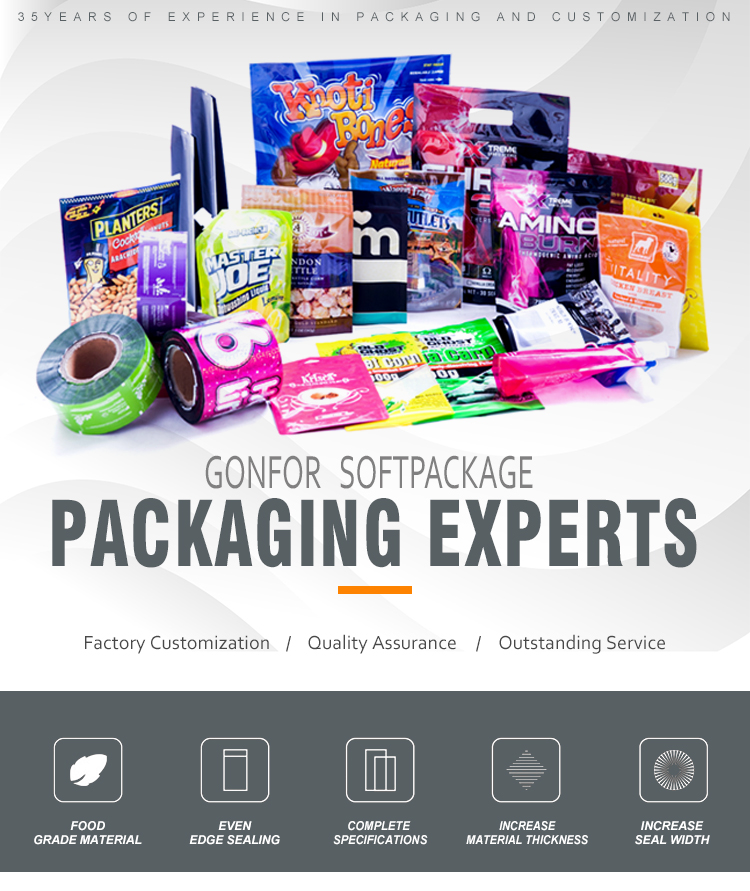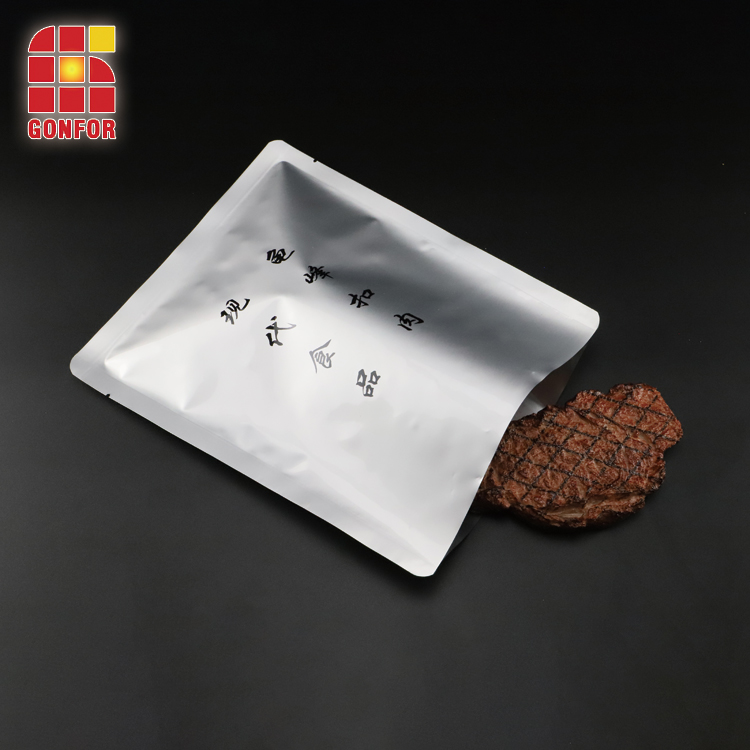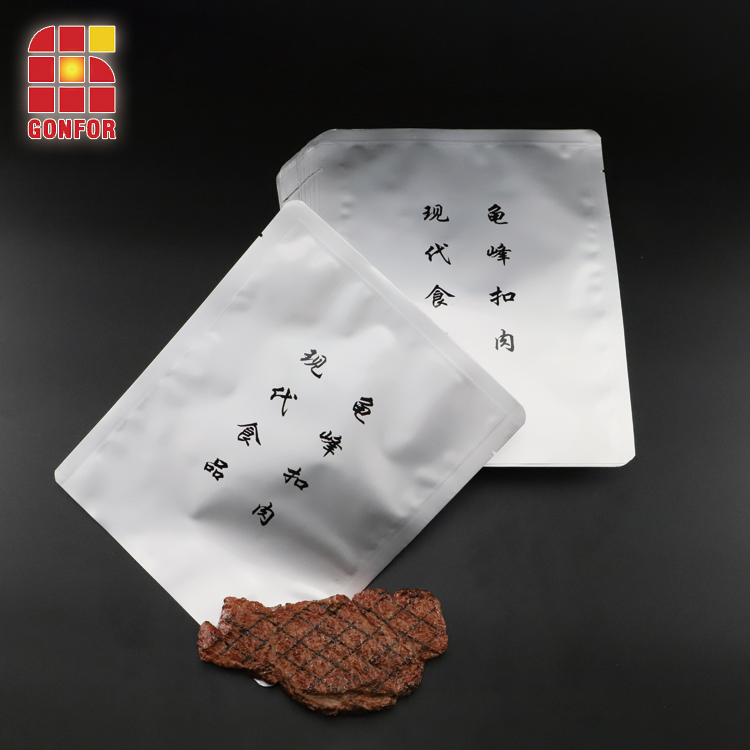 Product Description:
1.High Temperature Retort Aluminum Bag has high quality barrier feature, high temperature proof for 121 to 130 degree celsius. Easy sealing for heat sealer.
2.High Temperature Retort Aluminum Bag is suitable for all kinds of high temperature cooking meat products, Cereals, sauces, nutrition products, baby food.
3.Our Aluminum bags have the characteristics of high temperature resistance, low temperature resistance, pressure resistance, easy sealing, easy storage, non-toxic and aseptic. 100% safe and reliable.
4.Our aluminum bags have tested by QS, EU and FDA standards.
Product Specification Sheet
Material: PET/AL/PE, PET/AL/CPP, PET/AL/NY/PE,PET/AL/NY/CPP as clients' required. and with custom thickness
| | | |
| --- | --- | --- |
| Material and Thickness | Size | Each Pouch Weight |
| 260microns (Two sides) | 70X100mm | 2g |
| 260microns (Two sides) | 80X120mm | 2.75g |
| 260microns (Two sides) | 100X150mm | 4.85g |
| 260microns (Two sides) | 120X200mm | 8.5g |
| 260microns (Two sides) | 160X230mm | 10.7g |
| 260microns (Two sides) | 200X300mm | 17.6g |
| 260microns (Two sides) | 250X350mm | 25.6g |
| 260microns (Two sides) | 350X500mm | 51g |
| 260microns (Two sides) | 500X750mm | 109.5g |
Ø Color: 1 color or Customized
Ø Suitable temperature: -20°C - ≤135°C
Ø Certificate:ISO22000,ISO9001,ISO14001,OHSAS18001
Ø Material:Laminated aluminum foil
Ø OEM available
Ø Customized according your design
Ø Application Area: Cooked food, meat, bean sauce, beef tripe, garvy.
Ø Feature: Barrier to Moisture, oxygen, light,Aroma.

Gonfor package is a manufacturer specializes in supply flexible packaging. With over 35years experience. We have over 150 lovely employees and Covering the area of 15,000 square.With us, you can do a custom package that suits the needs of your product and your consumers.
Our main products including:
Doypack

Zipper pouch

Three sides sealed bag

Shaped pouch

Spouted pouch or nozzle pouch

Retort pouch for 121 to 135 degrees.

Rollstock film / pre-made packaging film.

Vacuum pouch

Side Gusset pouch

Paper Pouch

Aluminum Pouch

Center seal Pouch/ Pillow Pouch
All of them do roto-gravure printed or unprinted, we will use food grade laminated material and high-quality system ISO22000, FDA,EU to guarantee its safety.
Delivery time for new order can about 15-20days.
If you have any question, Our sales team will assist you to understand all the details of your product packaging.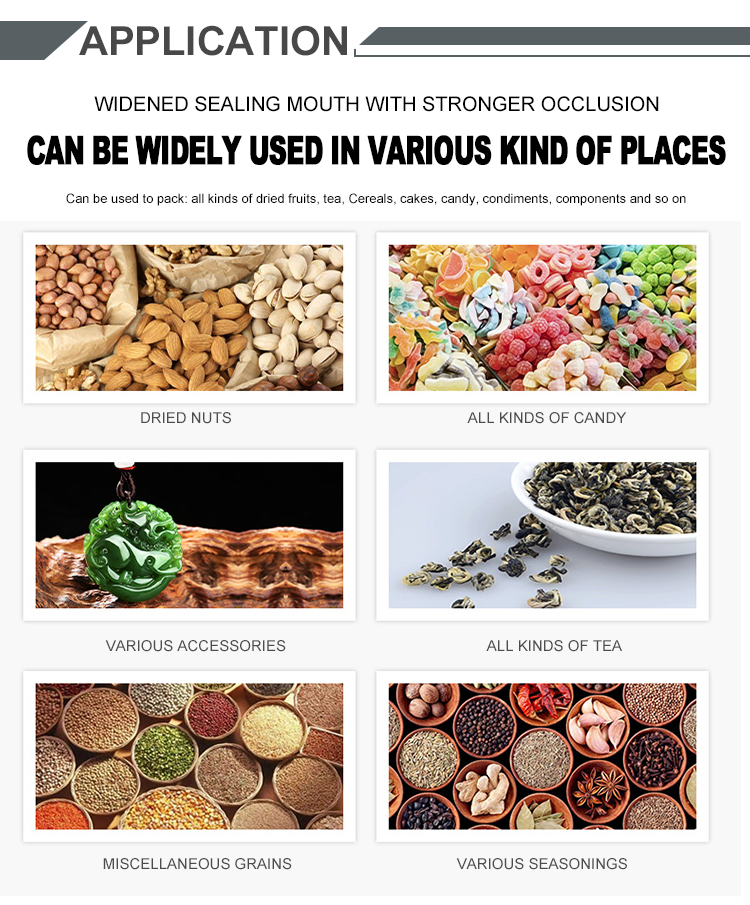 Company Information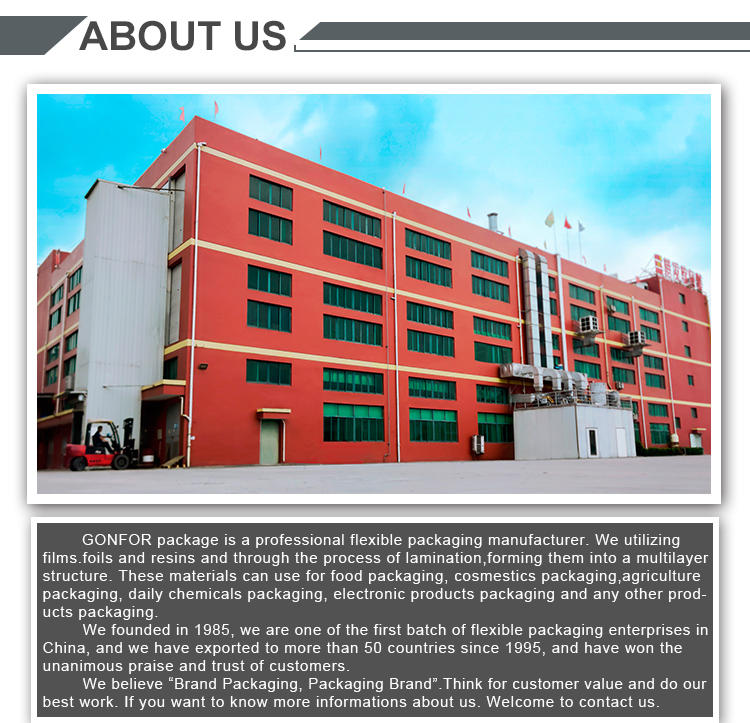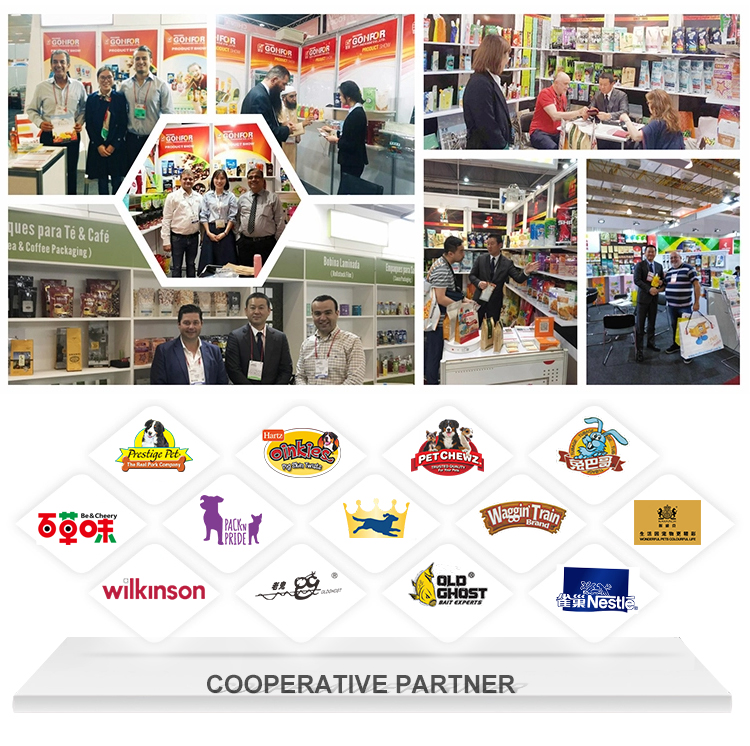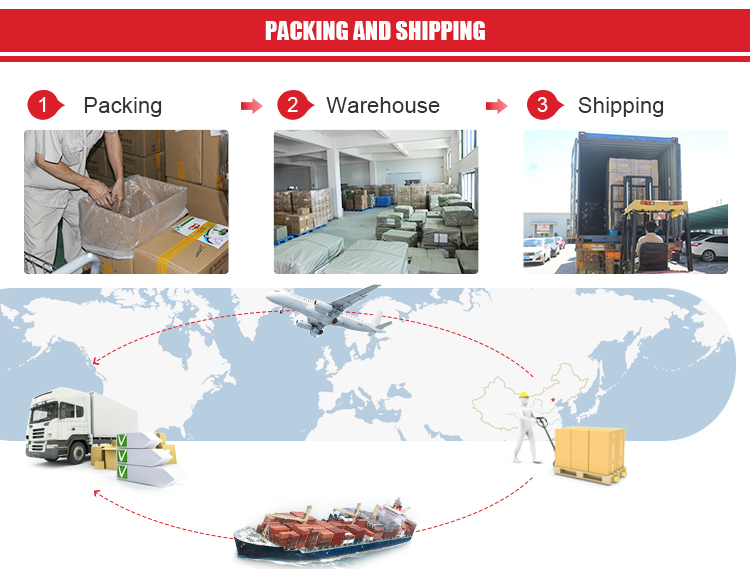 1.This is the first time for me to buy packaging bags, not sure how to start it, what's the information I need to provide just in order to get a price?
Yes, we need know your company name, website and contact information, your product type, material requirement and filling machine type. We can assist you understand all details about how to do your packaging.
2.What's your MOQ ?
It's decided by bag size, however, it's always negotiable.

3.How many colors can you make? What color can I use?

Up to 10 colors! Pantone colors as well as the common 4coIor(CMYK) process, any color is available.
4.I want to use the bag to pack my product, it is food, can your bag work?
Yes, pls dont worry, all of our bags are food grade and areabIe to meet FDA & EU standards, can contact food directly.

5. Can I have the bags printed with graphic design and my logo?
Yes, no problem, we are OEM manufacturer, can make the bags by the specifications you need with customized design printing.
6. What's your lead time?
Generally speaking, it's about 10-15 days, it actuallydepends on the required QTY.
7. How can I make the bags sealed?
All of our bags are heat sealable, they can be sealedeasily by simple heat sealer.
8.Do you have a price list/catalog?
Sorry, since all of our products are customized, we donthave a price list/catalog.
9.Can I see the sample first?
Yes, samples are free, please contact us for details.